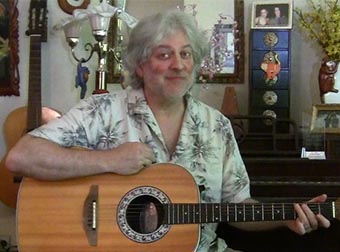 Hi Folks,
First of all, my most humble apologies to the many, many good folks who've sent me emails, over the last few months, that have accumulated in my inbox, patiently awaiting replies.
Somehow, my email inbox backlog has gradually passed the 1,000 email threshold and even when I make an earnest attempt to put a dent in it, it just seems to keep growing. I'm sure many of you can relate, but even so, sorry for not replying sooner to assorted queries. (this apology excludes bill collectors and emails promising to significantly increase my length and girth; as listeners of my 'Squirrels in the Attic' CD are well aware - it's just the right size! Thank you very much. ;-)
US GIG ALERT!:
This coming Wednesday, July 3rd 7:00pm, I'm playing a gig at a new venue, The Falcon, in Marlboro, NY (about 10 minutes north of Newburgh, NY on 9W. It'll be my last US gig before flying across the pond to run my 'Songwriting Seminar' in France (French House Party), then up to Scotland for the Edinburgh Fringe Festival, the kickoff to my upcoming 40+ city UK/Ireland tour. Yikes! Anyway, if you're in the NY/NJ/CT/PA area, come join me at a cool new music venue. Click here for reservations: www.liveatthefalcon.com or call 845-236-7970.
UK/IRELAND TOUR ALERT!!!:
So, anyway, like I just said, I'll be kicking off my 2013 UK/Ireland tour in less than a month! 'Yikes!' doesn't come close to expressing the amount of pre-tour logistics, packing and organizing I need to get done between now and then. I can imagine many of you welling up with concern and thinking to yourselves, 'oh, gee wiz, Dean, how can we help alleviate all that pre-tour stress?' Well, I do appreciate that imagined expression of support, and while I still need to do most of it myself - get a haircut, relearn my lyrics, put new strings on my guitar, buy new socks, etc... - there is actually one thing that most of you concerned folks out there can do to make a really big difference in how the coming tour pans out. And it's this...
ORDER YOUR TICKETS TODAY!!! (please;-)
Yeah, yeah, I know... you all saw that coming. But, what can I say? It's true. The more advanced sales I get before the tour, the more I can spend on advertising, promotion, etc... the more other folks (not already on the email list) get to hear about the tour dates, and the more folks ultimately show up at the gigs. So, actually pre-sales matter a lot! Thanks for ordering those concert tickets early. CLICK HERE TO ORDER TICKETS
Meanwhile...
"Uh, Dean, Just How Exactly Do You Play That Song?":
I'm very pleased to announce the launch of a brand new, extremely low-budget (actually, no-budget) online video series, entitled, "Uh, Dean, Just How Exactly Do You Play That Song?", featuring (you guessed it!) me, as your host!
Folks come up to me all the time at gigs and email me asking, "Uh, Dean, Just How Exactly Do You Play That Song?". To which I usually reply, "um... uh, well... uh, it's, uh, difficult to explain... (mumble, mumble...)."
Anyway, not satisfied with that lame answer, I decided to do something a little more helpful (hopefully), so, I'll be posting a new episode of this highly anticipated (right!) new video series every few weeks and I hope you guys will enjoy it - non-existent production values aside - and maybe even get some insight into how to play some of these tunes yourselves.
All feedback is genuinely appreciate (even if it may take me a few years to respond! ;-)
So, check it out and let me know what you think...
"Uh, Dean, Just How Exactly Do You Play That Song?"
Episode #1: 'Company'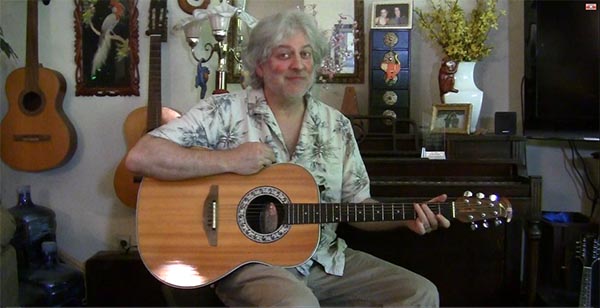 Oh, and, uh, try to ignore, all the, uh, umms, and uh's! ;-)
Spreading the Word ('bout the Music):
I just occurred to me there is one more thing you folks could do to lend a hand in this extensive tour endeavor, and that is, simply, to help spread the word about the upcoming tour. Tell your friends, your enemies, your frenemies... heck, tell your friendly local chiropodist! And if you spend time on social networks, like Facebook and Twitter and Google+ and FuzzyFriends.org and... hey, does anyone actually use MySpace anymore? Not making fun, just asking? Anyway, if you remember... just post it, like it, Google+ it, pinch it, tickle it... whatever. It does help to multiply the message and spread the musical word.
Media
And as for all my pals in media out there - and you know who you are: reporters, journalists, radio & TV presenters, assorted guest-bookers, producers, media-moguls and execs... - now would be an ideal time to contact me to arrange an interview, guest-spot, preview, feature, review, etc... just email me at media@deanfriedman.com and we can put something on the calendar.
Wind Up
Well, I think that's all for now. I'm sure I've forgotten something I meant to include in this newsletter, but I can't remember what it was right now, and it's time to get this email out into the cyberspherespaceweb. After all, it's meant to be a June newsletter and here it is practically July.
Before I sign off, though, I would like to extend a hardy thanks to one Willis Carrier of Buffalo, New York, who, it is claimed, invented the modern air-conditioner. We've been enjoying a particularly muggy heat-wave here in Peekskill, so...
Thank you Mr. Carrier!