Hey Folks,

Even though the official date was over a month ago, spring has finally arrived here in Peekskill: the happy gurgling of the leaky plumbing, the cheerful blossoming of the mold and mildew in the basement, the heartwarming chirping of the newborn mice living in my right studio speaker. Ah, yes... the joys of spring!

Anyway, it's here, which means the summer's not too far behind, which means I've gotta start rehearsing the words to my songs again 'cause I've gotta lotta gigs coming up. But first....

Say hello to the Bucktons from Bedfordshire (pictures below) - Paul, Jean and their daughter Julie - winners of last year's Treehouse Competition. When we first discussed the best time for a visit, I suggested that by April the weather would be warm and, of course, they landed in New York City smack-dab in the middle of a snowstorm. The snow melted just in time for a very nice Sunday afternoon visit and lunch from the brand new Deli that opened up nearby - you guessed it - corned beef on rye (with some cole-slaw on the side.) Julie preferred the strawberry and banana yogurt. I particularly enjoyed the salad dressing ;-)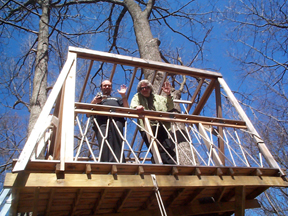 It was a fun afternoon for everyone and afterwards the Bucktons headed out to visit friends in New Jersey (way on the other side of the Hudson). Nice to have you folks! And a special thanks to Russ Walton of UKSounds.com who sponsored the contest and made all the travel arrangements. And, so, speaking of travel arrangements....

US DATES plus KIDS SHOWS May/June/July
First, I've got a bunch of US dates coming up this month including a couple of Silly Song, Sing-Alongs (dates below) PLUS I've added a new NYC gig w/band at a great upperwestside venue called Makor on Thurs, July 3. Check it out! (see below)

LONDON DATE JULY 29 - The Borderline
Then, I hop on a plane across the pond to do a gig at the Borderline in London - July 29th. And a few days later, I head north to Scotland for the...

EDINBURGH FRINGE FESTIVAL: Dean Friedman/Songs for Grownups Aug 1 - 25 (6:35pm)
Dean's Silly Song, Sing-Along Aug 1 -25 (11:00am)

My appearance at the Edinburgh Fringe Festival in August is now confirmed. In fact, I'll be doing my 'grownup' show AND my 'kids' show for the full festival run, from August 1st-25th, performing my grownup songs in the evenings and my Silly Song, Sing-Along kid show every afternoon! Tickets for the festival go on sale mid-june.

UK/IRELAND TOUR:
Then, after a few weeks rest, I'm back in the UK doing 30 dates in October/November. Tickets for the UK tour are due to go on sale on my website May 15th.

So here's where I'm playing and when... (PLEASE NOTE: Gigs labeled 'kid show' are kid songs only - no grownup songs. All the other gigs listed are my regular grownup gigs)


DEAN ON TOUR 2003


US GIGS

MAY
Fri 16 Silly Song, Sing-Along (kid show) P.S. 321 Auditorium Brooklyn, NY call: 718-788-5471
Sat 17 Turning Point* Dean w/band Piermont, NY
Sun 18 Silly Song, Sing-Along (kid show) Ariel's Child New Windsor, NY call: 914-565-2235
Sat 24 Sidewalk Cafe Dean w/band New York, NY

JUNE
Sun 1 Silly Song, Sing-Along (kid show) Ariel's Child Cortlandt Manor, NY call: 914-788-5348
Wed 18 Stone Pony Dean w/band Asbury Park, NJ
JULY
Thur 3 Makor Dean w/band New York, NY
Sat 19 1794 Meetinghouse (Dean solo) New Salem, MA info: www.1794meetinghouse.org


UK GIGS

JULY
Tue 29 Borderline London ORDER ONLINE

AUGUST - Edinburgh Fringe
Fri 1 to Mon 25 [6:35pm] Dean Friedman - Songs for Grownups / Edinburgh Fringe Festival - Assembly Rooms ON SALE JUNE 15

Fri1 to Mon 25 [11:00am] Dean's Silly Song, Sing-Along / Edinburgh Fringe Festival - Assembly Rooms ON SALE JUNE 15

OCTOBER - UK/IRELAND TOUR
Wed 1 Dumfries Lochside Theatre
Thur 2 Aberdeen Lemon Tree
Fri 3 Glasgow Renfrew Ferry
Sat 4 Berwick-upon-Tweed Maltings Arts Centre
Mon 6 Glenfarg Bien Inn
Tuesd 7 Billingham Forum
Wed 8 Bridlington Spa Theatre
Thur 9 Lincoln Theatre Royal
Fri 10 Manchester Life Café
Sat 11 TBA
Sun 12 York Fibbers
Mon 13 Newark Palace Theatre
Tue 14 Leamington Spa Pump Rooms
Wed 15 Birmingham Jamhouse
Thur 16 Leeds City Varieties Music Hall
Fri 17 Liverpool Neptune Theatre
Sat 18 Leicester Y Theatre
Sun 19 Bath Bath Spa University / Michael Tippet Centre
Wed 22 Dublin Olympia Theatre
Fri 24 Cardiff The Point
Sat 25 Bridgend Grand Pavilion
Sun 26 Ebbw Vale Beaufort Theatre
Tue 28 Northampton Roadmender
Wed 29 Swindon Swindon Arts Centre
Thur 30 Worcester Huntingdon Hall
Fri 31 Worthing Assembly Hall

NOVEMBER
Sat 1 London Bloomsbury Theatre ON SALE MAY 15 via Dean's Website
Sun 2 Aylesbury Civic Centre ON SALE MAY 15 via Dean's Website
Tues 4 Christchurch Regent Centre ON SALE MAY 15 via Dean's Website
Thur 6 Winchester Tower Arts Centre ON SALE MAY 15 via Dean's Website

AND THEN....

...I head home for a loooooong nap!



By the way, I'm still looking for one or two UK businesses or individuals to help sponsor the UK Tour plus Edinburgh Fringe Festival. SPONSORS are included in all emails (5,000), handbills (150,000), posters (5,000), national ads (seen by millions), snail-mails (5,000) plus get complimentary tickets (how many do you need?) and good karma points (12) for supporting independent music. If you've got a product or service that you think might benefit from the exposure provided by sponsoring the upcoming UK Tour, or even if you've got a huge piggy bank bursting with quarters and you always wanted to see your name on a Dean Friedman tour poster ;-), drop me a line for more details. Posters go to print in a few weeks, so anyone interested should write ASAP!

I'm busy with a zillion things, including finding time, in the midst of booking the tour, to write material for the New Next CD. I'm making progress, but, just to let you know, it doesn't look like I'll have the next CD out in time for the upcoming tour.It's definitely looking like a 2004 release. But don't worry, I promise it'll be worth the wait! ;-) And meanwhile, there's all sorts of other interesting musical stuff going on, so stay tuned!

So, just to recap:

1. You can order tickets for the US gigs NOW!!! ORDER ONLINE NOW
2. Tickets for the London / Borderline gig on July 29th will go on Sale May 15 on www.deanfriedman.com
3. Tickets to the Edinburgh Fringe Festival / Assembly Rooms go on sale June 15 http://assemblyrooms.com
4. Tickets for the UK Tour go on Sale May 15 on www.deanfriedman.com

Oh, and did I mention that the US gigs are all ON SALE NOW!!!

Any questions? Give me a holler.

See you folks on the road. And remember, drive carefully!

Dean