PRESS RELEASE PRESS RELEASE PRESS RELEASE PRESS RELEASE PRESS RELEASE PRESS
DEAN FRIEDMAN ENTIRE 2005 UK TOUR ALMOST CANCELLED DUE TO CANNABIS SEED SPONSOR.
Musician Dean Friedman's 2005 UK tour, which is being sponsored by the UK's leading supplier of cannabis seeds, Goldenseed.co.uk , was almost cancelled, this week, following a press release which announced his plan to distribute 'legal-in-the-UK' cannabis seeds to the first ten CD purchasers at ever concert on the tour.
Friedman's new album, Squirrels In The Attic, includes a song called 'Doint, Doint, It's Just A Little Joint', a catchy ode an herb. Friedman's press release described how his unusual sponsor, Goldenseed.co.uk would be providing Friedman with 1,000 seeds, to be distributed, along with the new CD, to music reviewers and to the first ten CD purchasers at every concert on the tour.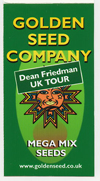 Says a bemused Friedman, 'As long as it doesn't rain and the seeds don't get wet, everything we're doing is perfectly legal. If it rains, though, and the seeds start to germinate… uh, we may have a problem.' Technically, according to UK law, possession and sale of cannabis seeds is legal unless and until they germinate.
Within 24 hours of the release all but one of the fifteen venues booked for the tour emailed or called to cancel the gig if Friedman followed through with his plan to distribute seeds to concert-goers.
According to Friedman: "They were serious. In fact, they were hysterical! Not to mention indignant and self-righteous: 'How can we promote good family values while being seen endorsing such illegal activity?' they asked, in a panic. 'Well,' I replied, 'First of all, what I am proposing to do is not illegal. And second of all, don't you make most of your revenue by selling alcohol and cigarettes to your audience members - far more lethal substances - before sending them home in their cars, inebriated? Are those the family values you're worried about?' Anyway, they didn't fully appreciate the irony of their stance, and as an indie artist, I wasn't in a position to take the financial hit of the entire tour being cancelled, so I arrived at a compromise. I promised not to distribute the cannabis seeds on or near the venue premises, but I would still be allowed to mention my sponsor and I insisted on being able to sing the playful 'ditty' which inspired this 'tempest in a tea-pot', "Doint, Doint, It's Just a Little Joint".
Meanwhile, the local media had a heyday and you can see the results of this controversy in the following articles (click images to enlarge):
As you might expect, those venues that protested the most, generated the most local press and wound up selling the most tickets on the tour. A lesson in risky PR. As long as you don't mind being the target of pot-puns like,
'Singer faces joint ban by venue and local police.'

'Weed it and weep'

'Singer backs down on CD offer' (get it: 'seedy' offer)
Says Friedman, "Of course, now I've got all these left-over seed packets that I don't know what to do with. Suggestions anyone?"
Once an understanding was reached with all the venues, Friedman's tour went off as planned and nobody went to jail.
Friedman is the American singer/songwriter best known for his hit singles, 'Ariel' and 'Lucky Stars' and breakthrough hit album, 'Well, Well, Said the Rocking Chair', Friedman has earned a loyal and devoted worldwide following as a consummate songsmith and recording artist with a string of international hits and gold records. Other Friedman hits include, 'Lydia', 'Woman of Mine' and 'McDonald's Girl'.
Critics have compared Friedman's music to the likes of Paul Simon, Sting, Randy Newman and Elton John. Featured TV appearances on the Baddiel Syndrome and the hit BBC series Classic Duets, have served to firmly establish Friedman as a major recording artist in the singer/songwriter, pop/rock genre. Typical reviews of Friedman and his music upon the original release of 'Well, Well' Said the Rocking Chair', describe him and his work thus: "Songsmith Extraordinaire' – MUSIC WEEK. 'Stunning musicianship' – HOT PRESS. 'Friedman succeeds where others fail because he takes risks and makes them come off. An exceptional talent!' NME.
You can hear Friedman's harmless herb ditty, "Doint, Doint, It's Just a Little Joint" at
Listen to more Dean Friedman tracks in the AUDIO section of www.deanfriedman.com. For review copies of his new album, 'Squirrels in the Attic' contact media@deanfriedman.com

Copyright (c) 2006 Dean Friedman Productions

If you would like to UNSUBSCRIBE from Dean's Email List please reply to this email with the word UNSUBSCRIBE in the subject field.