Hey Folks,
HIGH DRAMA AT THE HIGH BARN
First, I'm pleased to confirm that I've managed to secure a replacement venue for my Friday 18th October gig (originally scheduled at the High Barn, Great Bardfield). The gig will now will be held just 15 miles away (northwest) at St Botolph's Church, Church Path, Hadstock CB21 4NX.
All tickets purchased through the www.DeanFriedman.com website for the previous High Barn gig will be honored at St Botolph's Church. However, PLEASE NOTE THE NEW (earlier) 8:00pm START TIME. (Any tickets purchased via the High Barn box office please email me dean@deanfriedman.com for substitute ticket instructions)
Sorry for the drama and suspense, but I'm pleased that with the helpful assistance of someone on this email list, I was able to find a new venue in the nick o' time.
See you at the gig!
Meanwhile...
Dean's Sunday Afternoon 'Songwriting Seminar' - London Sunday, 20th October 2013
You've all heard me talk about the cool 'Songwriting Seminar' I conduct at the French House Party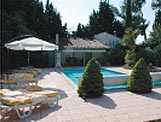 just outside Carcassonne, France, every summer. It's always a great 4-day weekend, filled with music and song, and I've already confirmed dates for next year: July 25 thru 28, 2014. If it's something you think you might be interested in, check out the info at the following link: http://frenchhouseparty.co.uk or send an email to: enquiries@frenchhouseparty.co.uk.
Meanwhile, I recognize that dates and location might not suit everybody's schedules and circumstances, so for the second year in a row, I'm announcing a Sunday Afternoon, 'Songwriting Seminar' at the Flemings-Mayfair Hotel in London on the date of Sunday 20th October, 2013 from 1:00pm to 5:00pm.
This afternoon 'Songwriting Seminar' is a sort of condensed, mini-version of the French House Party course (except without the swimming-pool, tennis courts, gourmet catering, wine and a thousand acres of sunflowers in full bloom! ;-) Even so, folks say they've gotten a lot out of this mini-course, and I do my best to cover the basics and discuss everyone's individual work.
Dean's Sunday afternoon 'Songwriting Seminar' at the Flemings-Mayfair Hotel, London
Sunday, 20th October, 2013 1:00pm to 5:00pm
Cost for the 'seminar' is £225 and the afternoon will run approximately 4 hours - from 1pm to 5pm - with a break for snacks.
Attendees are invited to bring their instruments, but expertise on an instrument is not required - ask Bernie Taupin. (Note: banjos allowed only under adult supervision;-). Topics to be covered will include 'choosing direction', 'coaxing inspiration' and 'solving the puzzle'. This course is open to aspiring and experienced songwriters of every level, based on the premise that we all have something to learn from each other's personal expression.
REGISTER FOR DEAN's SUNDAY AFTERNOON 'SONGWRITING SEMINAR'
Any questions, just drop me an email at dean@deanfriedman.com
Enrollment is limited, so if interested, don't leave it too late.
Location: The Flemings-Mayfair Hotel, London is located at Half Moon Street | Mayfair | London W1J 7BH | Tel: +44 (0)20 7499 0000 | http://flemings-mayfair.co.uk [ If arriving by car/satnav, use postcode W1J 7BN ]