Hi Folks

Having a great time here at the Edinburgh Fringe Festival! Sun shining and streets and venues filled with wonderful performers and shows of every description.

My grownup show, 'Dean Friedman - Words & Music', kicks off tonight, Wed. 7th Aug. 9:00pm at the Sweet Grassmarket venue and runs thru 25th Aug (not Mon.Tues.). CLICK HERE for TICKETS

Meanwhile, my new musical, "Smelly Feet" - a children's musical that really stinks! - has been getting terrific audience feedback and reviews; check 'em out here: One4Review The Stage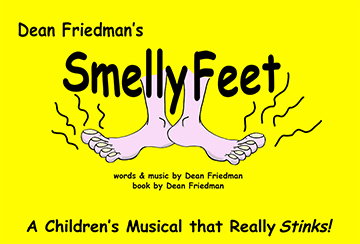 "Smelly Feet" is playing every day (except Weds) at 12:10pm, from now 'til 25th August, also at the Sweet Grassmarket venues. The musical features kid favorites my 'Silly Song, Sing Along' show, including Smelly Feet, I'm Somebody Too, Please, Please, Please, Don't Tees the Bees and more. Though I wrote the songs and story, I won't be performing in it; instead, an extremely talented cast of Sweet performers - Paul Cregan, Grant Keelan, Pippa Reid - will delight kids with the silly tale of best friends, Danny and Pete, and their hilarious quest, aided by Danny's little sister Sally, to find a cure for Pete's 'Smelly Feet'! The show is directed by JD Henshaw.
It's a perfect family show geared to kids ages 3 thru 8; so, if you're anywhere in the Edinburgh area, come down and check out "Smelly Feet"! at the Sweet Grassmarket venue. TICKETS for "Smelly Feet" on-sale at www.edfringe.com or call the EdFringe box office at 0131 226 0000.
Oh, and just in case you missed it, I've just launched an IndieGogo crowdfunding campaign to fund the creation of a SongBook for my album, "Well,Well," Said the Rocking Chair'!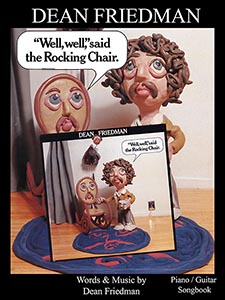 If you've ever wished there were sheet music or a song book to play some of your favorite tunes off my "Well, Well," Said the Rocking Chair' album, I hope you'll click through to learn more about the campaign. I've already raised 20% of my goal after only three days. You guys can make it happen! Just click here: Dean's IndieGoGo Campaign to Fund a "Well, Well," Said the Rocking Chair' SongBook.
Meanhile, here's another episode of "Uh, Dean, Just How Exactly Do You Play That Song?" Episode #4, featuring, 'Woman of Mine'...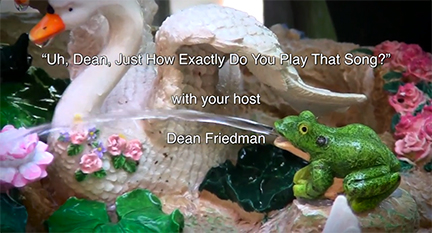 Hope to see you at some of the gigs.
Enjoy the music and thanks for listening!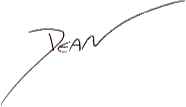 Dean