Hey Folks
Yikes! I'm flying (or leaping) across the pond in 10 days and I still have a few zillions things to do before I leave. But, am I panicked?
Uh... yeah! ;-)
Nevertheless, I'm pleased to be posting the third episode of "Uh, Dean, Just How Exactly Do You Play That Song?", featuring one of the bonus tracks from my 'Rumpled Romeo' CD, "The Lakelands".
Buy the way, I'd like to say, thanks for all the generous and friendly feedback I've been getting for these videos! I also thought I'd mention that I've cheekily added a 'DONATE' button in the info section of each "Uh, Dean, Just How..." video, just in case some of you are inspired to contribute to these indie music/video efforts. The recommended contribution amount is $227,853.62, but smaller amounts will also be greatly appreciated! ;-)
But before you click on the video link, below, I'm compelled to remind all my pals in the UK, Ireland and France...
If you're thinking of catching one of the gigs on my upcoming 40+ city 'Words & Music' concert tour, it is highly recommended that you order your tickets very soon - like today! - before they're all...
SOLD OUT!!!
O.K., truth is, that's only likely to happen in the smaller venues, but, even so, you're strongly advised to...
ORDER YOUR Dean Friedman CONCERT TICKETS TODAY!!!
Now, where was I...
Oh, yeah, check out the latest "Uh, Dean, Just How Exactly Do You Play That Song?" video featuring, "The Lakelands". Thanks for listening and watching - and let me know you think. All feedback is appreciated!
"Uh, Dean, Just How Exactly Do You Play That Song?"
Episode #3: 'The Lakelands'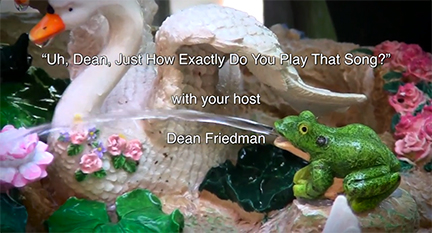 Well, I guess that's about all for now. Have a great weekend and enjoy the video!