Hi Folks,

First of all, allow me to express my heartfelt sympathy to all my good friends and supporters in the UK, following last week's upsetting downgrading by credit agency, Moody's, of the UK's AAA financial credit rating.

I know, from personal experience, that this type of credit rating mishap can be both humiliating and demeaning. But I would like to assure all of you that, despite the fact that you're no longer a secure credit risk, and despite the fact that you've now officially been labeled a nation of irresponsible deadbeats and lay-abouts, I will not think any less of you or your good works. I want you know I'm behind you all the way!

Like most independent musicians, I'm well aware of the embarrassment that can accompany such financial stigma. And knowing that, I want to make it absolutely clear that, in spite of the moral hazard associated with such negligent behavior, I promise to continue to value your generous support for all of my ongoing artistic efforts.

I will, however, require cash-in-advance and a notarized promissory note for any future financial dealings concerning amounts greater than 50 pence. I know you'll understand.

Having survived WWI, WWII, and a string of more than a decade of devastating losses in the Eurovision song contest, I'm confident that - given your irrepressible pluck and indefatigable 'carry-on' attitude - in no time at all, you'll find your way back to the triple-A status that you've just been so cruelly stripped of, and which you so justly deserve.

In the meantime, I appreciate that things may get a little tough, financially, for the foreseeable future, so may I humbly suggest that each and every one of you order your very own personal copy of this remarkable book, (signed on request) filled with astute and invaluable financial advice, written by an internationally acclaimed independent musician, who, almost uncannily, shares my world view.:

A Musician's Guide to Surviving the Great Recession'.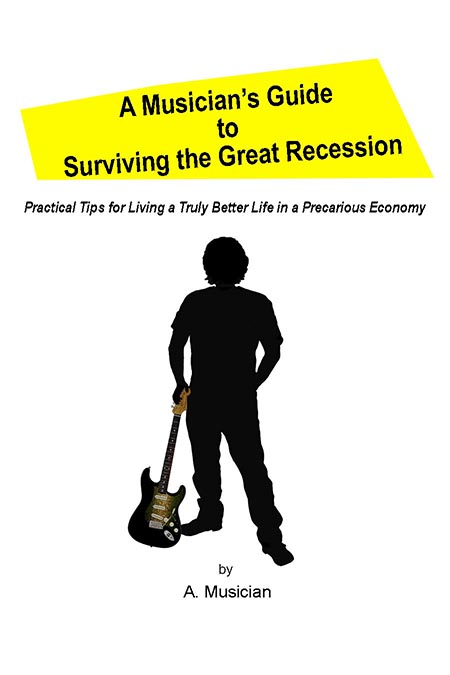 And just remember, for what it's worth... here in the good ol' U.S. of A. we lost our AAA credit rating over 19 months ago, and has it stopped us? No! Not one teeny, weeny little bit! We're still printing new money, and running up trillion dollar debts, like there's no tomorrow! How? Because we CAN! So don't be despondent; it's just one little letter 'A'. Kind of like that scarlet letter in Nathaniel Hawthorn's book, but without the tawdry sex. Not that you can't continue to have tawdry sex, but, you may have to put up some type of collateral. Seriously, buy the book, it'll solve all your problems - the financial kind and the tawdry kind! Or, if it doesn't solve all your problems, I promise, at the very least, it'll make you laugh out loud!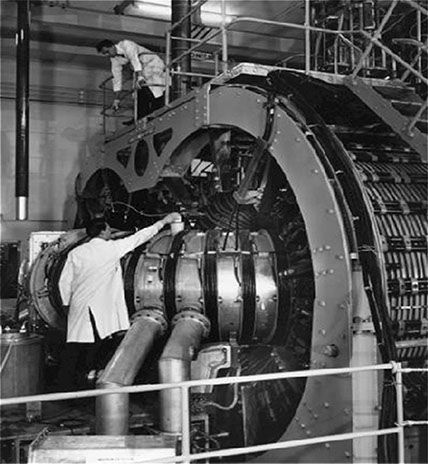 Meanwhile, If you live anywhere in the Westchester, NY area, you're invited to another cool evening of jazz-fusion with my instrumental jazz-fusion group, The South Street Fusion Project, appearing at The Winery, Mohegan Lake, NY, this coming Wednesday, March 13th at 8pm.
The Winery is an old converted stone-church located on Route 6, about 100-feet east of the Mohegan Diner. It's got great ambiance, delicious food and drink and the folks that run it look after you. Come join us for a mid-week respite; bring your friends.
Check out some youtube clips of the kinda music we're playing at any of the following links:

www.facebook.com/SouthStreetFusionProject
www.SouthStreetFusionProject.com
www.youtube.com/SouthStreetFusion
For tickets, directions and info, CLICK HERE: The Winery
Finally, I expect to be announcing my 2013 UK/Ireland tour-dates in just a few weeks. As usual, I'll be in Scotland in August for the Edinburgh Fringe Festival, plus a handful of other Scottish gigs, then back in October for the rest of the UK - (that is, assuming your checks don't all balance! ;-)

Just kidding! You guys would be great even if you had a triple XXX credit rating!

Speaking of France...

Dean's 2013 'French House Party - Songwriting Seminar' - July 26 thru 29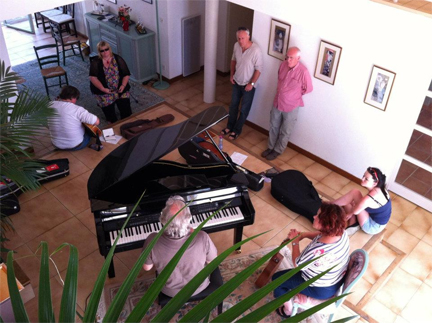 There are still slots available for this summer's 'French House Party - Songwriting Seminar'.
This will be my fourth year running it in a beautiful, idyllic, converted farmhouse in the south of France, just outside Carcassonne, surrounded by thousands of acres of sunflowers in full bloom.
The long, four-day weekend course - July 26 thru 29 - is filled with discussions and examples of songwriting approaches, strategies and techniques. It also includes delicious meals, wine-tasting, pool, tennis, boules pitch, plus a Saturday evening concert.
Click the following link for more info and to watch a fun video all about it:
http://frenchhouseparty.co.uk/deanfriedman.html
Everyone always has a great time, so if you love songs and if you're itching to write some, or if you've written a bunch and are looking for some creative feedback, or if you're just curious to learn some more about the craft of songwriting, come join us for a music-filled weekend in the south of France.
Any questions just email Moira at: enquiries@frenchhouseparty.co.uk.
Anyway, that's all for now.

Everybody, be well! And please... support your local economy:

Buy produce at your local farm-market!

Go out to your local pub/bar/restaurant and listen to live music!

Give your waiter or waitress a great big fat tip!

Place all your sports bets with your local bookie!

Patronize your neighborhood herb dealer!

Remember, we're all in this together, except for maybe, you know, those poor, unfortunate schlubs in the chilly, glacial, bankrupt nation of Iceland. Any one got change of a Krona? Björk? Anyone?

My dog has better credit than them. Seriously, he does! Read the book! (available in ebook and paperback.)

Fiscally Responsibly Yours,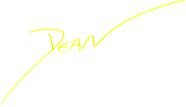 Dean