Hey Folks,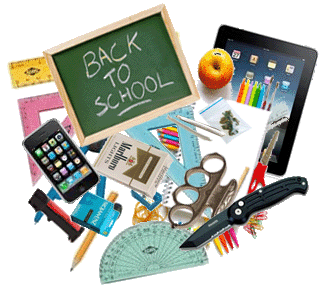 Hard to believe it's September, already; shorter days, cool crisp nights, falling acorns hurtling earthwards, concussing distracted squirrels.
Back to school. Back on the road.
There's always been something I've found invigorating about this time of year; memories of brand new school supplies, protractor, compass, ruler, books-covers, loose leaf binders and notebooks, and a rubber-band bound bundle of #2 pencils.
The school supply checklist may have changed a bit, since I was a kid, but the feeling's still the same - a clean slate, new classmates, new teachers, a vast world of facts and figures to wrap your head around. Energized by the cooler temperatures and the beckoning unknown, anything seems possible! Anything, that is, except figuring out where I packed away all my winter clothes.
It seems like I just got back from an amazing Edinburgh Fringe run, but here I am already prepping again for the 2nd leg of my 2012 UK Tour, getting ready to head out in just a few weeks.
So, just in case my last 12 newsletters accidentally wound up in your junk-mail folder, here are the upcoming gig alerts:
GIGS
September 22nd - Greenport, NY - Sandpiper Ice Cream shop (1 scoop of toffee, ice cream in a sugar cone, please!) order tickets
And then...
UK/Ireland Tour Dates: September 27 thru November 3

- Twenty six (count 'em) UK and Ireland gigs, from Chesham to Dublin and everywhere in between (see www.deanfriedman.com for complete tour itinerary and tickets). order tickets
Note: the Birmingham gig is already sold out, and a few other gigs are almost full, so you're encouraged to order your tickets early.
As always, you're also encouraged to invite all your friends, as well as people you don't even know; that's right, just walk up to complete strangers in the street and say, 'Hey, did you know Dean Friedman's doing a gig in town, this month?'. Then, when they give you a blank stare, just start singing your favorite DF tune. Then, when they start backing slowly away, with an anxious expression in their eyes, whip out your ukulele and begin accompanying yourself. Eventually, you'll draw a crowd of curious onlookers and given time (don't stop singing, yet) the local police will arrive. As they approach, just before they cart you off in handcuffs (this is when you can stop singing), toss a bundle of gig-flyers into the crowd and yell as loudly as you can, 'tickets are available online at www.deanfriedman.com!' I have no idea whether this will succeed in selling any tickets for the tour, but it'll make a great story for you to tell your grandchildren. [note: have a friend video you with their smartphone, so you can post the entire incident to YouTube. And be sure to have a lawyer/solicitor on call.]
Dean's 'Songwriting Seminar' at the French House Party in Carcassonne, France - July, 2013
Meanwhile, we had such a great time this July, that I've just confirmed next year's French House Party 'Songwriting Seminar', to be held, once again, right outside Carcassonne in the south of France. The course will run July 26 thru 29, 2013. Needless to say, it's a really fun, four day weekend - hanging out around the pool with a nice bunch of folks, eating delicious food, sipping wine (or lemonade), sharing, talking about - and writing - songs. The weekend course is £750 per person, and enrollment is limited. Note: discounts available for early bookings. Just click on the following link to learn more about the weekend at: http://frenchhouseparty.co.uk or send an email to Moira at: enquiries@frenchhouseparty.co.uk Did I mention the tennis court and swimming pool surrounded by thousands of acres of sunflowers in full bloom? ;-)
And maybe London? The last few years, I've gotten lots of queries as to whether I'll be doing any 'Songwriting Seminars' in the NY area, London or Edinburgh, and I'm considering doing a much shorter one-afternoon workshop, in each of those cities, which would cover some of the basic elements of the full course, but in condensed form - and, obviously, not in as much detail and depth as the full session, and with less time for individual review and discussion. (And, of course, nowhere near the idyllic setting, ambience and sumptuous catering included in the French House Party 'Songwriting Seminar'.) Even so, I plan on covering a lot of ground during the one-afternoon session, and on spending as much time as feasible discussing individual participants' songs. I'm looking at Sunday 21st October in London for the first afternoon-workshop (the day after my London gig at the Islington Assembly Halls. Cost for the 'seminar' would be £225 and the afternoon would run approximately 4 hours - from 1pm to 5pm - with a break for snacks. I need to gauge interest before I confirm the date and book a venue, though, so if it's something you're interested in, shoot me an email, and I'll be able to confirm in a week or so.
My Little Sister Writes a Really Big Collection of Beautiful Spiritual Short Stories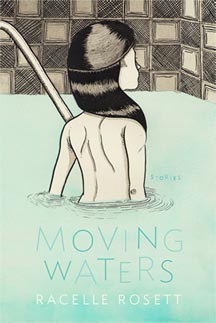 My beautiful and talented kid sister, Racelle, who lives out in L.A. and writes for TV and does all kinds of cool stuff, has just published her first book, Moving Waters, a collection of beautiful spiritual short stories that revolve around a loose-knit Jewish community in the Hollywood hills. Here's the Amazon.com description:
A television producer who moonlights as a cantor, an actress who leaves her husband for another woman and enters a mikvah to mark the transition, a young widow who gets her hair colored to prepare for the unveiling of her husband's gravestone – Racelle Rosett's debut story collection enters the lives of members of a Reform Jewish community in Hollywood and explores the unexpected role that ancient ritual plays in the lives of these characters living in contemporary Los Angeles.
Here's what some well known authors have to say about Racelle's writing:
Moving Waters - "Racelle Rosett is the real thing." - Erica Jong, Fear of Flying
"An inspiring heart opening story. Please read." - Anita Diamant, The Red Tent
I'm her big brother, and admittedly biased; even so... I can say in all sincerity that every page of this collection is filled with powerful, touching life moments that are sure to resonate with readers of every description.
Highly recommended for people of all faiths, viewpoints and inclinations!
Check out Racelle's website and order her new book online:
Other Stuff?
Hmmmm... yes, there are a few other things I've been working on, but they're still in that too-early-to-say stage, though having said that, one of 'em might be plans to start working on a new album very soon. That is, assuming enough of you out there are even interested in hearing a new Dean Friedman album. Just saying. I'm mean, after all, like it or not... you're my record company! ;-) Fancy that! Here you were, all this time, imagining yourself gainfully employed, living a responsible life as a law abiding citizen, when all this time - whether you realized it or not - you've been living the high-risk, adrenaline fueled life of a music biz executive! Who knew?! ;-)
Don't worry, though, being in the music biz has some definite perks. Aside from the requisite sex, drugs and rock & roll, you get to decide, not just what music gets heard, but, what music gets made in the first place. Consider the awesome power! My advice? If you want to maintain your girlish figure, try to restrain yourself when it comes to all the free hors d'oeuvres at CD release parties; and do avoid what you might mistake for condiments - that white powdery stuff will definitely not sweeten your tea.
I think that about covers things for now.
Hope to see some of you at some of the upcoming gigs.
Be well and take it easy!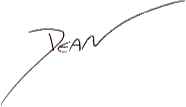 Dean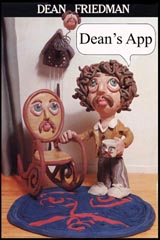 PS: If you haven't already downloaded it, check out my cool new 'Dean Friedman Music' App. Works on most mobile devices. It's chock full of my music, videos, embarrassing pics, Twitter and Facebook feeds and more. You can download it here.
Or here:
or here:
[NOTE: My 'Dean Friedman Music' App was created using the www.mobile.conduit.com app builder; check 'em out!] DF