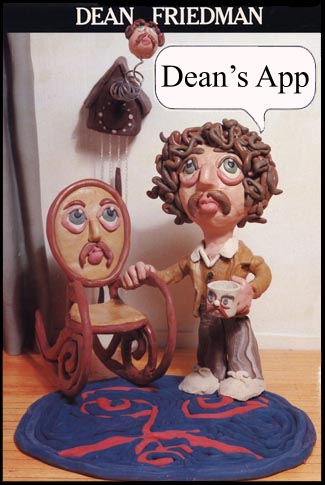 Hey Folks,
Yes, I know many of you have grown increasingly despondent over the fact that you can't download Dean Friedman tracks directly to your mobile phone or iPad, while standing on line at your local betting parlor, waiting to bet your lunch money on the daily double.
And I realize it's especially frustrating to so many of you, not being able to purchase tickets to my upcoming UK/Ireland tour-dates, while dining alfresco on escargot in creamy shallot and wine sauce, while checking the latest Facebook and Twitter feeds.
And, of course, it goes without saying that the fact that none of you have been able to indulge in viewing all sixty-four (Yes! Count 'em: 64!) of the original, home-made, McDonald's Girl videos that have been posted on YouTube, by various people from all over the world, has proven to be a genuine hardship, especially for those dedicated fans of my Rumpled Romeo album.
And need I even bother to mention the deep embarrassment and dire humiliation heretofore suffered by dedicated listeners, owing to their inability to un-holster their mobile phones in order to answer the pointed, though entirely reasonable, question posed by skeptical acquaintances, "Dean who?"
Well, no more!
That's right, friends, the Dean Friedman Music App is finally here and ready to be downloaded to your mobile phones (iPhone, Android, Windows and Bada) and iPad, this very day!
Now, for the first time, while standing on a long line (or queue) at the motor vehicle department waiting to pay a $250 traffic ticket, or stuck at the grocery check-out counter waiting for the store manager to respond to the cashier's bored plea for a price-check on a can of asparagus... now, instead of listening to voice-mail messages from bill collectors, you can peruse a gallery of classic Dean pics and album covers, or download my latest album or order tickets to one of the forty-five upcoming gigs I'll be performing between July and November in France, the UK and Ireland. Or you could play another level of Angry Birds - either way, it's entirely up to you. But, at least now you have the choice! Amazing, huh?!
In short, I'm very pleased to announce the release of my very first Dean Friedman Music App. It's got lotsa cool features including, as mentioned above, features for listening to music, purchasing music downloads, ordering concert tickets, following Twitter and Facebook feeds and viewing YouTube vids, all in the comfort of your very own iPhone, iPad or Droid.
Yes, I know it's been a long time coming. And I realize this represents an earth shattering milestone in my state-of-the-art, multimedia career. But I say to all you mobile phone addicts, and iPadders out there, who have been waiting so patiently, for so long... suffer no more!
The Dean Friedman Music App is here!
To download it, just click here: 'Dean's App' or you can scan the following QR Code:
Cool huh?! ;-)
So, let me know what you think. And let me know what you'd like to see added.
Oh, and before I forget, thanks to the good folks at Mobile by Conduit who created the cool App-Builder that I used to create the new DeanApp.
Just so you know, the App is 'free' to download, but if you feel inspired to buy a music download or purchase a concert ticket, while using the App, I won't stop you - and it'll definitely help cover the cost of developing and maintaining it.
Anyway, that's about all for now.
Everybody be well, have a great week, and see you on the road really soon!
Take it easy and don't forget - be 'appy! ;-)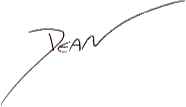 Dean