Hey Folks,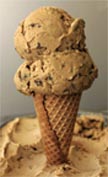 Summer's here... long days, sweltering heat, the 'hissing-of-summer-lawns', dog-day afternoons, wide-rimmed sun hats, Bono shades, double-dip ice-cream and a double-dip recession to go with it! ;-)
Naturally, to kick off the season, the ancient air-conditioner in my office finally bit-the-dust, so I, in turn, bit-the-bullet and went out and bought a brand new 6300 BTU unit with a remote control. Now, I can just sit back in my office chair, aim the hand-held remote and dial up the ideal temperature. Ahhhhhhhh...
So, there I was... just soaking up the BTU's. Hardly a care in the world, when I thought: BTU's? Wait a minute... doesn't that stand for British Thermal Units? And didn't my forefathers (and foremoms) fight a revolutionary war for the freedom to enjoy our own good old American Thermal Units? And what the heck is a thermal unit, anyway?! And, for that matter, don't I have a 30 city tour kicking off at the end of the summer that spans Greece, France, Ireland and British territories? And don't I have to sell as many tickets as possible, in advance, in order to pay for all the electricity that I'm currently (pun intended) consuming like a rabid rabbit named Abbot at an all-you-can-eat salad bar? Just coincidence? Hmmmm... I think not!
And than I thought, hold-on-a-minute... times are tough all over, lots of folks don't know where their next paycheck is coming from; even trust-fund babies have had to tighten their nappies, some even forced to pawn those silver spoons they were born with, in their mouths (which, if you ask me, sounds like a decidedly unsafe way to enter the world; not to mention extremely uncomfortable for... anyway, you get the gist.).
So, instead... I'm continuing my policy of offering free downloads (or whatever you feel like paying) of select albums from my extensive catalogue. Previous newsletters included downloads for my albums, 'Submarine Races' and 'Squirrels in the Attic' (download offers repeated below). This month, I'm pleased to offer a free (or 'pay-what-you-like') download of my fifth studio album, 'The Treehouse Journals'.
It contains a lot of cool tracks including one of my personal fav's, George Washington Slept Here; also Saddest Girl in the Whole Wide World, You and Me, Babe, Picture Postcard Life and, coincidentally, Summer Days, plus a bunch of other neat stuff.
Check out the link below. You can even stream the entire album online, before you decide to download.
So, don't forget the sunscreen. And remember, we're almost 80% water (percentage may vary according to proximity to the local pub), so keep yourselves well hydrated.
Meanwhile, here they are...
Dean's Downloads: