Hi Everybody,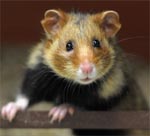 Apparently, according to recent news reports, there are giant hamsters running wild in France. No, this is not a reprise of the Giant Hairy Attack Spiders from my last email (still no woodpeckers!), these are actual hamsters who are irate at the loss of their grazing habitat due to urbanization. Read actual CNN News Report Here
The French are under attack for not properly protecting these endangered hamsters and risk fines of up to $24.6 million by the European Court of Justice for their failure to do so. So, it's no great stretch to conclude that France's already shaky economy is being seriously threatened by these fuzzy and mischievous critters (just look at the whiskers on that adorable face...)
Now, considering some of the unusual things that typically appear on French menus - frogs legs, brains, rabbit, moose (sp?), etc... - it seems to me that a giant wild hamster breeding program might solve the hamsters population problem while providing for a tasty entrée served francaise style, in a lovely, piquant lemon sauce.
This is just a suggestion.
I mention this because I've got two upcoming gigs in France (see www.DeanFriedman.com for dates), so giant, wild rampaging hamsters are a genuine concern.
Meanwhile, I've added one more gig to my upcoming 2011 Tour itinerary:
I'm performing at the Watergate Theatre, in Kilkenny, Ireland on Thursday, 29th September. Tickets to this and all other gigs on the tour (including three more Irish dates - Waterford, Dublin, Lisburn) are available online via my website at www.DeanFriedman.com. [Please note: this replaces a previously listed gig in Cork on that same date, which has now been cancelled]
Also, the Edinburgh Fringe Festival brochure has just been published and you can now order tickets to all my Fringe shows via www.DeanFriedman.com or the Fringe Box Office. [Please note: I'm performing at two different Fringe venues - The Music Box (Stevenson College) Aug. 10-14, 9pm and then at the Malmaison Hotel - Edinburgh [Leith Docks] (Mal4 Suite) Aug. 17-21, 9pm]