Hi Folks,
If you're reading this, a humungous solar flare hasn't wiped out Earth's electrical/digital infrastructure with a massive electromagnetic pulse... yet.
So, we all have a lot to be thankful for...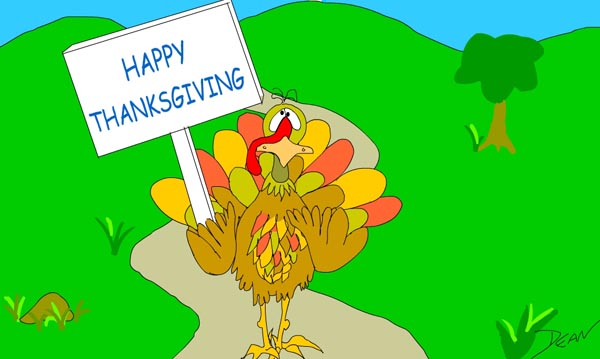 Here's a little animation I did a while back... CLICK HERE if you're feeling thankful
Personally, I'd like to extend my heartfelt thanks to Bartolomeo Cristofori di Francesco (1655 - 1731) for inventing the piano. Without his remarkable contribution, my modest song catalogue might be only have its size, but much worse, techniques for squashing cartoon characters would have been severely limited to a paltry assortment of safes and anvils.
There's lots more to be thankful for, such as the US Fed's recent announcement that they'll be increasing US money supply to the tune of $600 billion. (Now that's a tune I can hum along to! Wish I'd written it) At first, I was puzzled as to how this is actually done. Apparently, it's accomplished via a technique called quantitative easing or QE2. Nothing to do with the Queen or the ocean liner. And while we're off the subject, mazel-tov to Prince William and his lovely intended, Kate, on their pending nuptials. (In retrospect, by comparison, we should all be thankful for the inlaws we have.;-) Anyway, quantitative easing is sort of like adding water to the booze in your parents' liquor cabinet (or oregano to their stash) to keep them from finding out you were sampling their wares, while they were out. Sometimes, this actually works.
--------------------------------------------------------
Is that a banana in your pocket or are you just happy to see me?
Many of you know that for the past 30 years I've been living with a small, capuchin monkey named Amelia. Curiously, she prefers avocados to bananas. Well, this coming weekend, Friday and Saturday, November 26 & 27, 8pm, I'll be playing support for an honest-to-goodness, Monkee! That's right, I'm opening for Peter Tork & his band, the Blue Suede Shoes at the Record Collector - 'Living Room Series' in Bordentown, NJ. It should be fun. Info & tickets in the GIG section of www.deanfriedman.com . Hope to see some of you there.
--------------------------------------------------------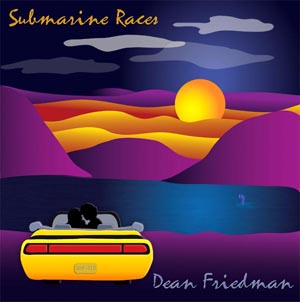 By now, folks should have received their initial shipments of my new album, 'Submarine Races'. And from all the positive feedback, it seems like people are digging it a lot. Of course, that's just their opinion; you'll have to decide for yourself whether you think it totally sucks or whether it's one of my finest albums yet. (note: I'm just feigning modesty here - it's flippin' great! ;-)
For those of you who prefer bits and bytes, the new album, 'Submarine Races' is now available for download via my website in both .wav or .mp3 audio formats.
To download the new album, just click on the 'ALBUM DOWNLOADS' link in the top left corner of my home page: www.deanfriedman.com
[note: if you already have your copy of the new album, email me your review and I'll post 'em online.]
--------------------------------------------------------
Meanwhile, as promised from stage every night on the recent tour, I've finally updated my website so that anyone that purchased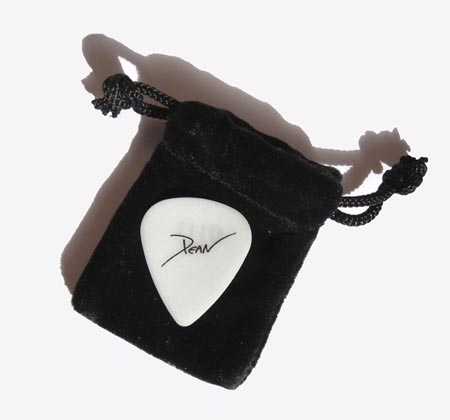 one of my handy-dandy, multi-tasking, custom, signed Dean Guitar Picks (plectrums), at the gigs (an astounding number of you, by the way!), will now receive a 10% discount on all online CD orders, via my website. No kidding! ;-) Just input the 4-digit code on the back of each pick and your 10% discount will automatically be calculated and deducted from your order total. Not just CD's, but T-Shirts, Mousepads and Posters too. In fact, here's some of the cool stuff now available for the first time on the order page...
| | | | |
| --- | --- | --- | --- |
| | | | |
| 19.5"x19.5" Lithograph (poster) Original Cover Art by Dean from 'Submarine Races'. | 19.5"x19.5" Lithograph (poster) 'Well, Well' Said the Rocking Chair' Cover Art. | T-Shirt w/ original CoverArt by Dean from 'Submarine Races'. | T-Shirt (Hemp fiber) featuring Earl the Squirrel exclaiming, 'Doint, Doint, it's just a little joint'. |
And if you didn't happen to pick up your own pick on the recent tour, you can still order one online and, once you receive it, you too will receive a 10% discount on all future CD/merch orders via my website. Oh yeah, and it comes in it's own snazzy li'l handy-dandy carrying case! (see above) How cool is that!? ;-)
[NOTE: Place your orders before December 1st to guarantee delivery for the upcoming holidays.]
So, anyway, I know you're all busy doing whatever it is you do, so I'll wind this missive down. I'll sign off with a track from the new album, 'Submarine Races', which is kinda appropriate to the topic of this Thanksgiving season. Nothing to do with turkeys, cranberries or pumpkin pie...
Click here to hear: 'I'm a Lucky Guy'
Thanks for listening. All the best and don't eat too much stuffing!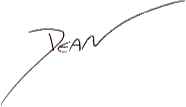 Deano