Hey Everybody,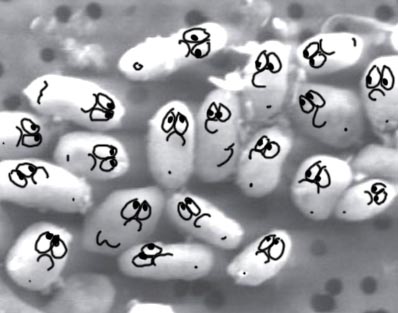 By now most of you will have heard of a new arsenic-based life-form discovered, here on Earth, by NASA astrobiologist, Felisa Wolfe-Simon.
It apparently escaped from the vegetable drawer in my fridge and made its way, by Amtrak, to Mono Lake, California, where it is challenging our concept of what constitutes the fundamental building blocks of life.
In the accompanying photo (left) it is apparent that these novel new microbes are not yet accustomed to their new-found fame and celebrity status (which by all accounts has just gone, well, not viral, per se, but... microbial). Their spokes-bacteria Gene Lipid III25, is quoted as saying the bacterium will be granting no interviews to the press until they've explored all available opportunities, which reportedly include: book, TV, film and recording offers, as well as endorsement deals for products ranging from Puffed Rice cereal to Dr. Scholl's Odor Destroyers Foot Powder. Legendary theatre impresario, Cameron Mackintosh is reportedly interested in featuring them in a revival of the classic comedy-thriller, 'Arsenic and Old Lace'. Rumors abound that they are being seriously considered as contestants on TV's 'Dancing With The Stars' and more than a few politicos have been heard murmuring about a possible presidential run (or they might have said, 'giving a presidential candidate the runs'; we're not sure.).
This startling event shouldn't dissuade anyone from ordering the excellent new album, 'Submarine Races' along with matching 'Submarine Races' T-Shirt and 'Submarine Races' lithograph (19.5" x 19.5" poster). Not to mention some of the other cool merch pictured below, such as the brand new 'Doint, Doint', It's Just a Little Joint' T-Shirt - made from real hemp (WARNING: not to be worn while driving or operating heavy machinery.), and the perennial favorite 'Well, Well,' Said the Rocking Chair' Mouse Pad:
Check out these and other cool products in the ORDER section of my website: www.deanfriedman.com . Note: Order today to receive in time for the holidays. (PLEASE NOTE: Bacterium NOT INCLUDED!)

By the way, for those of you that haven't already ordered it, here's what some of you have been saying about the new album...

''Submarine Races' is amazing!' Jerry from L.A.

'I haven't stopped listening to it since it came in the mail!' Sue from Devon

'Your best yet!' Richie from London

'My favorite Dean album since 'Songs for Grownups.' Al from Leicester

'Clever and profound... you touched my heart.' Jan from NJ

'Brilliant!' Dozens of you from all over.

But don't take their word for it; decide for yourselves! ;-)

Enjoy the music!

Enjoy your holidays!

Yours,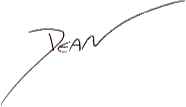 Deano
Click here to: Order Dean's new album 'Submarine Races' on CD or Download!